It's been ages.
2008 has been eventful. A year of emotional highs and lows, fear, happiness, sadness, joy, and awesomeness.
A year of many endings; the end of university life, the end of a relationship, the end of life overseas.

But it was also a year of many new beginnings, beginnings which will lead me into 2009; a new passion, a new career, a new love, a new direction in life. I'm excited, terrified, extremely happy and looking forward to the challenges ahead.

My life is full of chocolate chip cookies right now.

I'll leave you to figure out that metaphor but chocolate chip cookies are usually a good thing =)



Happy 2009 everyone!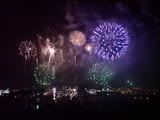 MIFC 2008