Can't keep a girl with a dead laptop away from her blog for too long.
But you can really slow her down with a super-cranky old borrowed laptop. However it's definitely better than nothing at all, so I'll take what I can get. (Please, please, please don't die on me dear borrowed laptop I mean no offence =S.) Also many thanks to the laptop contribitor, it's not the first time this laptop's been borrowed.
On another note, I feel like giving myself a good kick for not transferring a whole lot of photos that were taken during the past few weeks into my exteral memory. Here's to hoping they'll be recoverable when I finally get around to getting my own precious laptop fixed.



Enough about me, lets move on to happier things, like Cappuccino Cupcakes.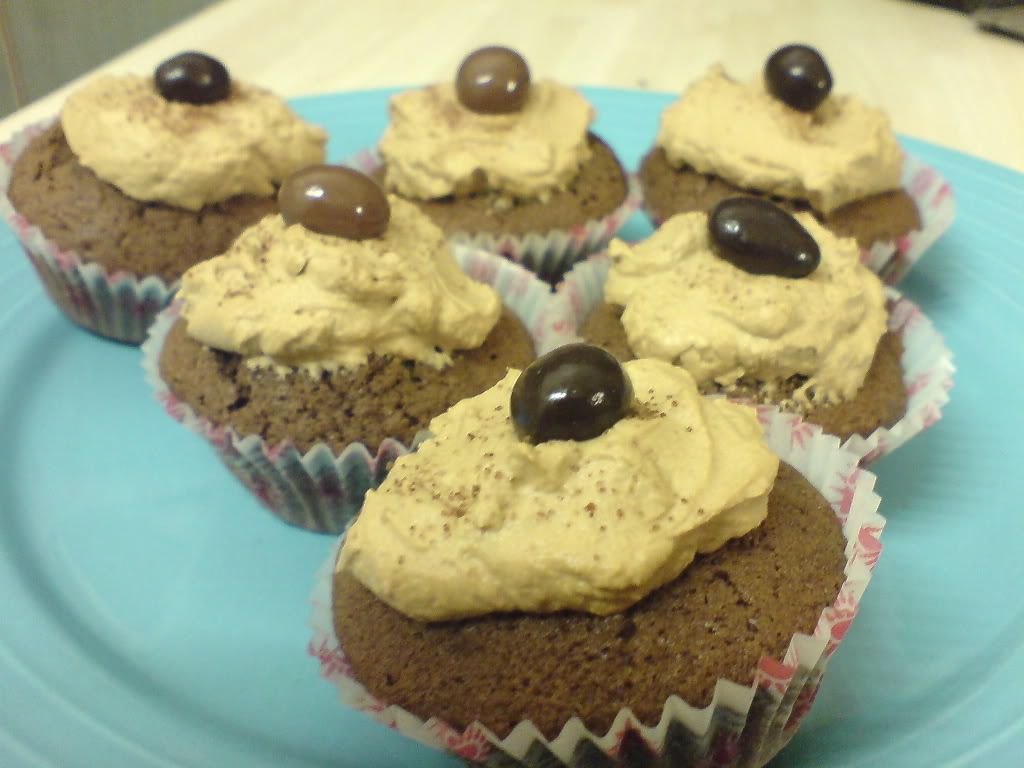 Chocolate-coffee sponge, coffee cream, chocolate coated coffee beans.
Yummy.
I do need to mention though that the coffee taste is pretty strong I didn't use much sugar so it might be a bit coffee-bitter for some but great for a coffee lover like myself.
Wouldn't reccomend it for kids though, might keep them awake.



Cappuccino Cupcake Recipe

Sponge ingredients:
2 tablespoons boiling water
1 tablespoon cocoa powder
1 1/2 tablespoons instant coffee powder
110g all purpose flour
90g golden caster sugar
110g butter, cut into small cubes
2 medium eggs
1 teaspoon baking powder

Coffee cream ingredients:
100 ml double cream
1 tablespoon boiling water
1 tablespoon instant coffee powder
30g icing sugar
Also, chocolate powder and chocolated coated coffee beans, to decorate.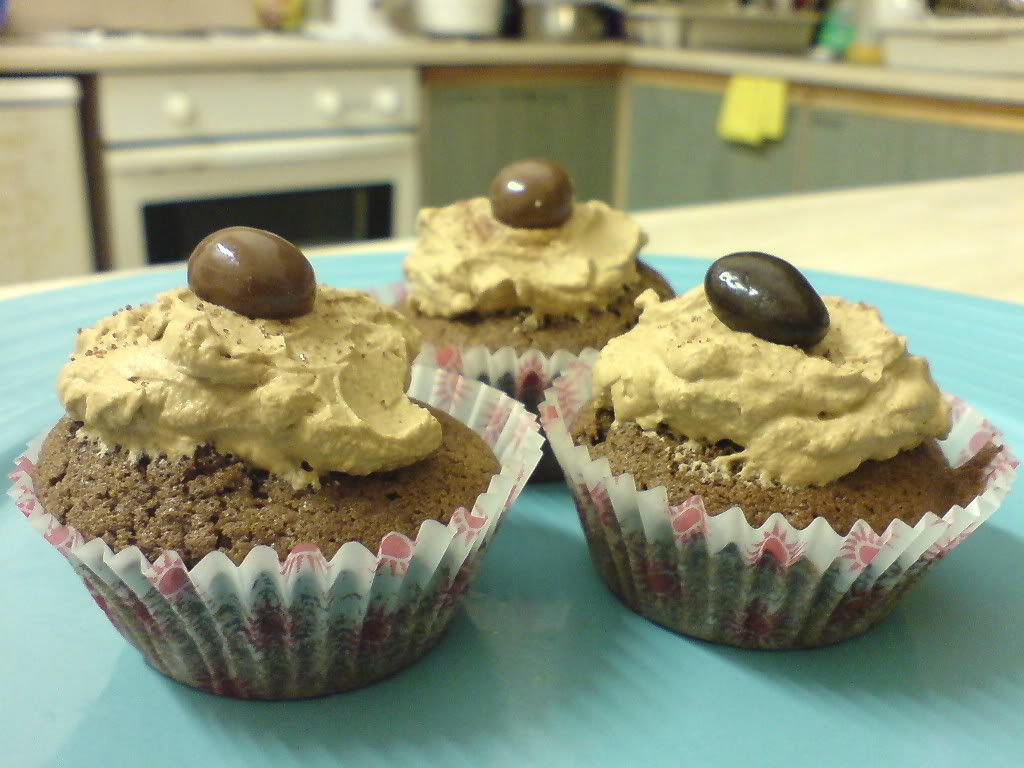 Directions:
1. Preheat oven to 200C/180C fan oven. Line cupcake tins with about 14 cupcake liners.
2. Start with the sponge. Mix 2 tablespoons hot water with the coffee and cocoa powder and instant coffee to create a paste. Leave to cool to room temperature.
3. Place all the ingredients, including cooled paste into a large mixing bowl and mix until creamy.
4. Fill cupcake liners about two thirds full and bake for about 18 minutes or until well risen and tops and springy to touch.leave to cool completely before making cofee cream.
5. To make coffee cream, start by mixing one tablespoon water with coffee powder to create a paste and leave to cool. Whisk cooled coffee, icing sugar and double cream until stiff.
6. Drop a teaspoon of coffee cream over each cupcake and dust with chocolate powder. Top with chocolate coated coffee beans.


Coffee-lovers unite!
Okay it might be carrying it a bit too far to call myself a coffee lover.
But I do like coffee ocassionally.