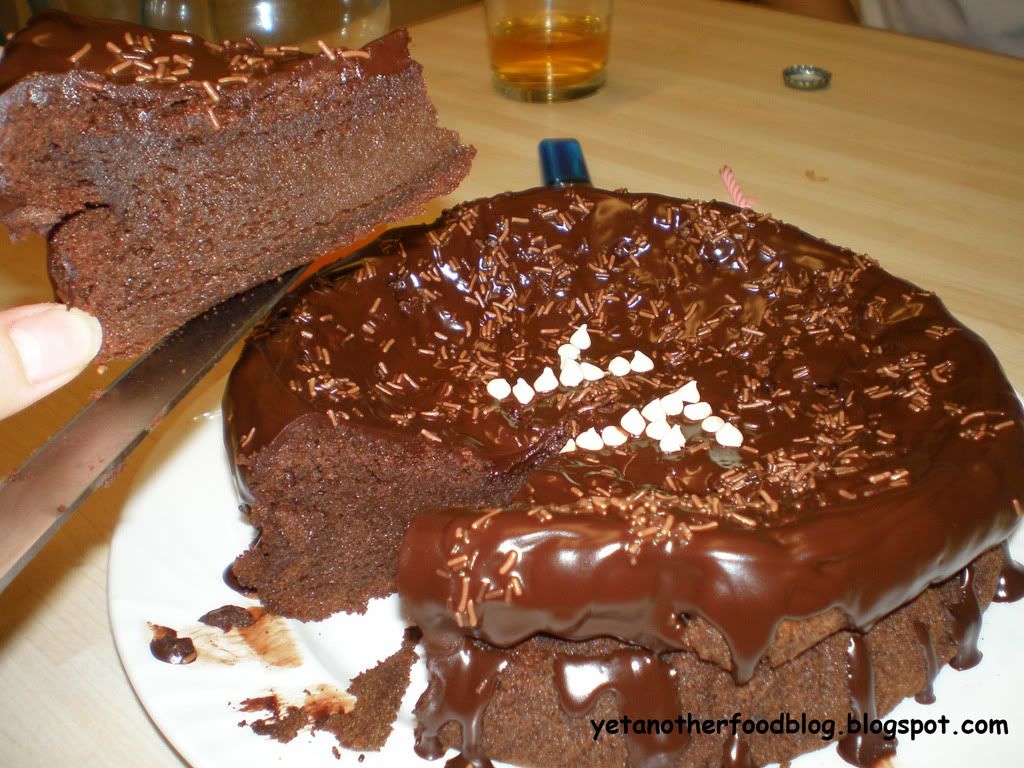 To one of my favourite housemates/food tasters/guinea pigs/friends.
Being the oh-so-nice *cough* housemate that I am, I decided to drag my jetlagged self out of bed to bake a cake for Yau Fai's birthday dinner last Saturday.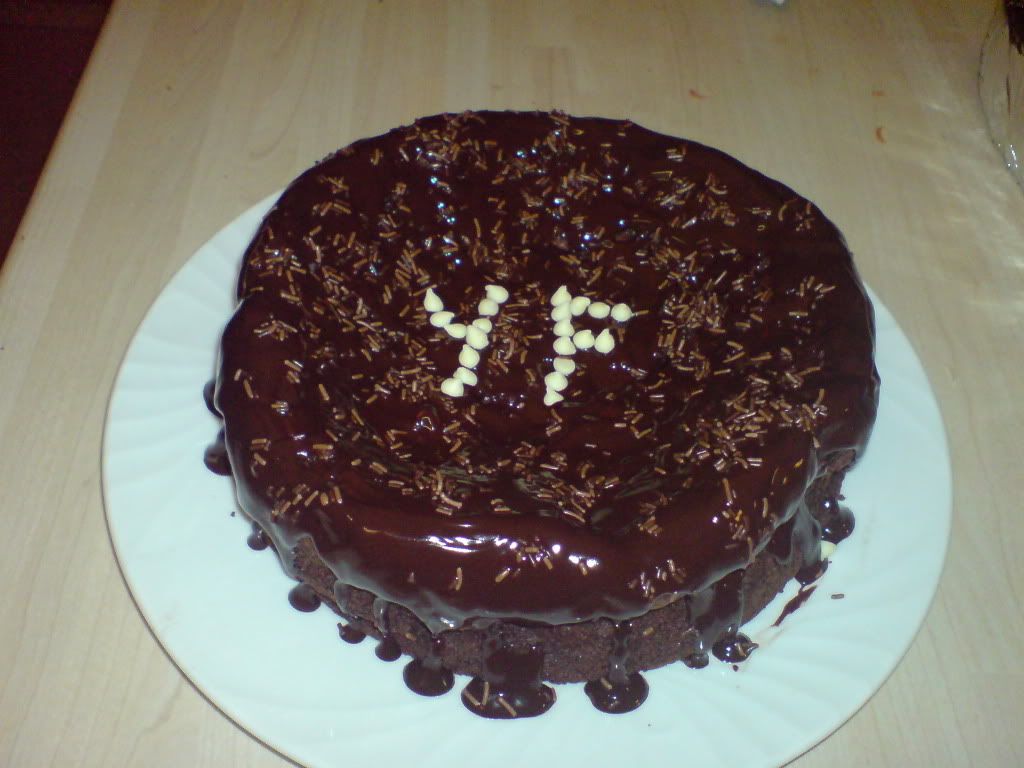 A simple, decadant, flourless chocolate cake, drizzled with melted dark chocolate.
One of my other housemates aptly calls this a "Chocolate Volcano" since it looks like it has a crater in the centre, with chocolate oozing everywhere.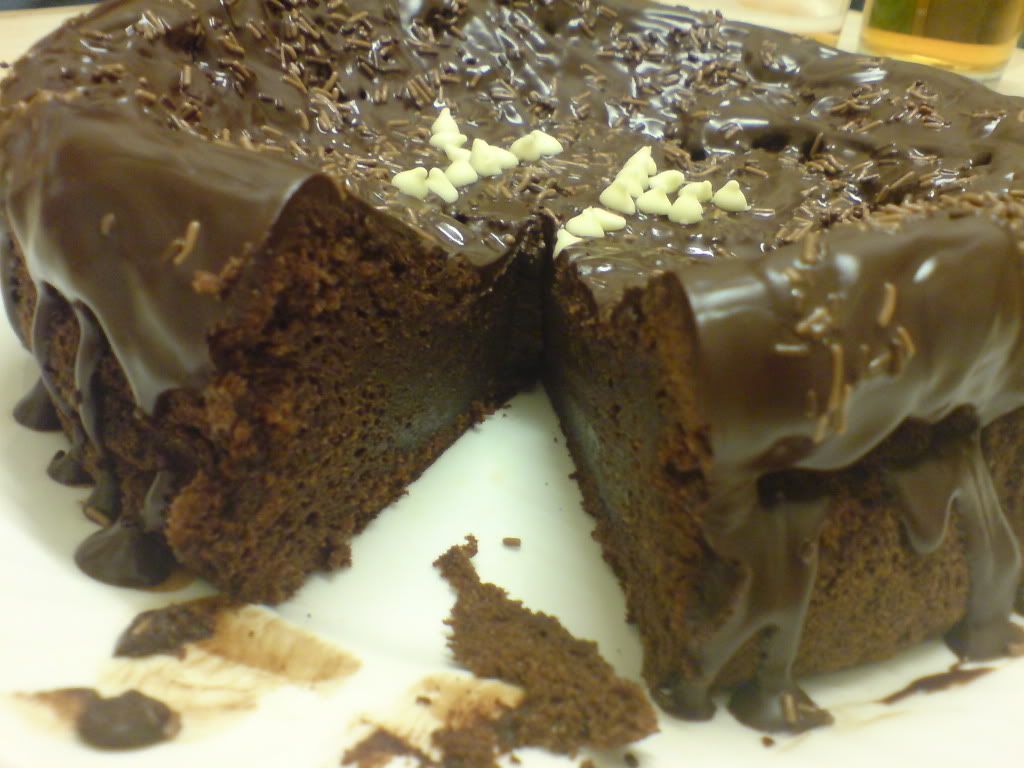 This flourless dark chocolate cake looks really rich, but it's acually light and kind of mousse-like. Even though the 5 of us were really stuffed after dinner, we still managed to wolf down half the cake.
Opinions were good all around. =)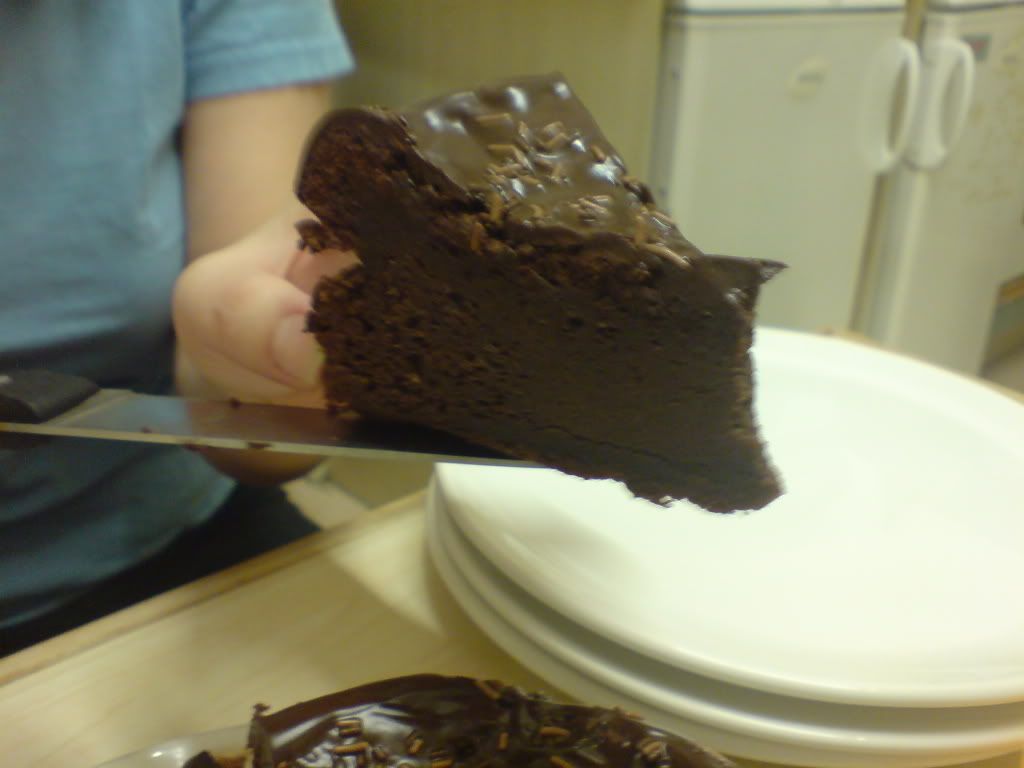 Flourless Dark Chocolate "Volcano" Cake Recipe
Ingredients:
125g butter, cut into cubes
200g good quality dark chocolate, broken into pieces
7 large eggs, seperated
1 cup/200g caster sugar

Dark chocolate drizzle:
100g good quality dark chocolate, broken into pieces
25g butter
Directions:
1. Preheat oven to 180C/160C fan-forced. Grease and line a 23cm round cake tin.
2. Melt the butter and chocolate over a low heat, stirring occasionally. Leave to cool for about 10 minutes.
3. Beat the sugar and egg yolks in a bowl till mixture turns thick and pale in colour. Stir this mixture into the melted chocolate.
4. Whisk egg whites with an electric mixer till soft peaks form. Gently fold in half the egg whites into the chocolate-egg yolk mixture, add in the rest of the egg whites, gently fold everything together.
5. Pour batter into tin, bake for about 1 hour and 15 minutes. Cover the cake(still in the tin) with a damp cloth, and leave in the oven to cool. The center of the cake will sink considerably, so don't panic when it does.
6. When cake is cooled, make the dark chocolate drizzle by melting the chocolate and butter. Drizzle liberaly all over cooled cake and serve.