The kind people at
Sperion
have sent me a bottle of extra virgin olive oil to review. Not just extra virgin olive oil.
ULTRA PREMIUM EXTRA VIRGIN OLIVE OIL.
When I first read about the product, I was intrigued. As far as I knew, virgin olive oil was one of the heathiest oils to use. Now there's Ultra Premium?

The price of 37 euros was kind of daunting to your average university student, i.e. me. I mean it's just olive oil. Or so I thought. But obviously, I leapt at the offer to try what sounded to me like the beluga caviar equivalent of olive oils.


A few days later this arrived. Direct from Greece, no less.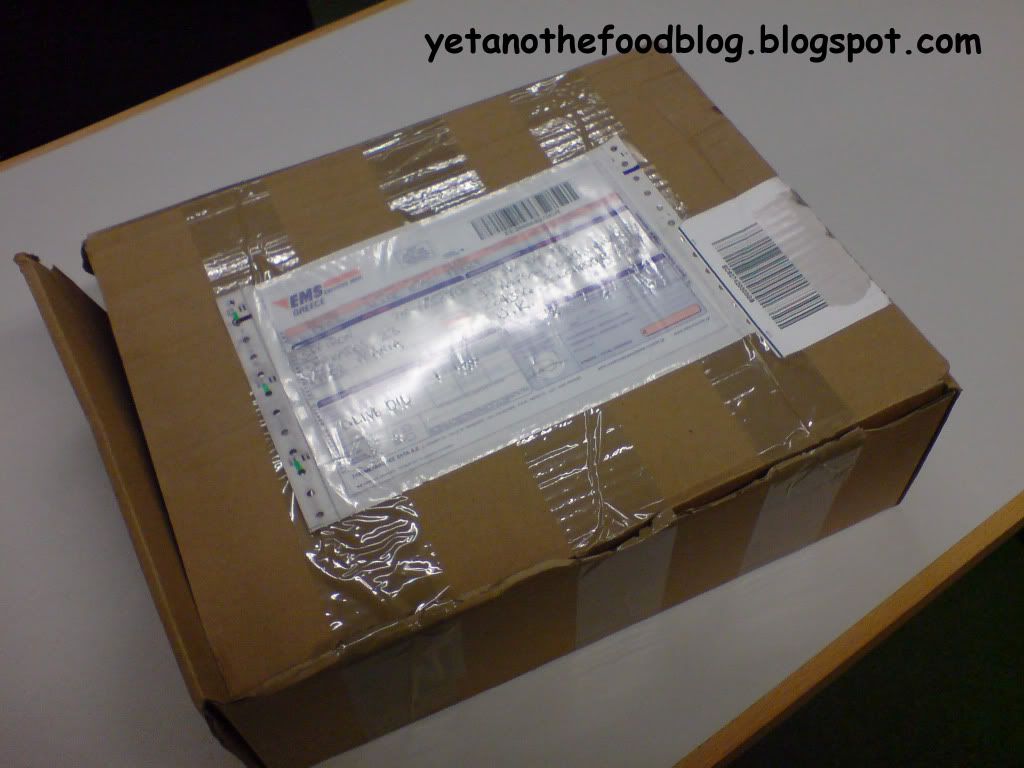 My heart skipped a beat. It looks like an elephant sat on it.
The post room people insist it arrived in this condition.
Sigh.
I shall choose to blame the Britsh Royal Mail then.
Thankfully the bottle was lovingly wrapped in layers of bubble wrap.
Not a single scratch in sight.
Whew.
Before I move on to the oil, first let me rave about the bottle.
I absolutely adore it!
From it's sleek, clean design...
to the cold, solid feel of the glass...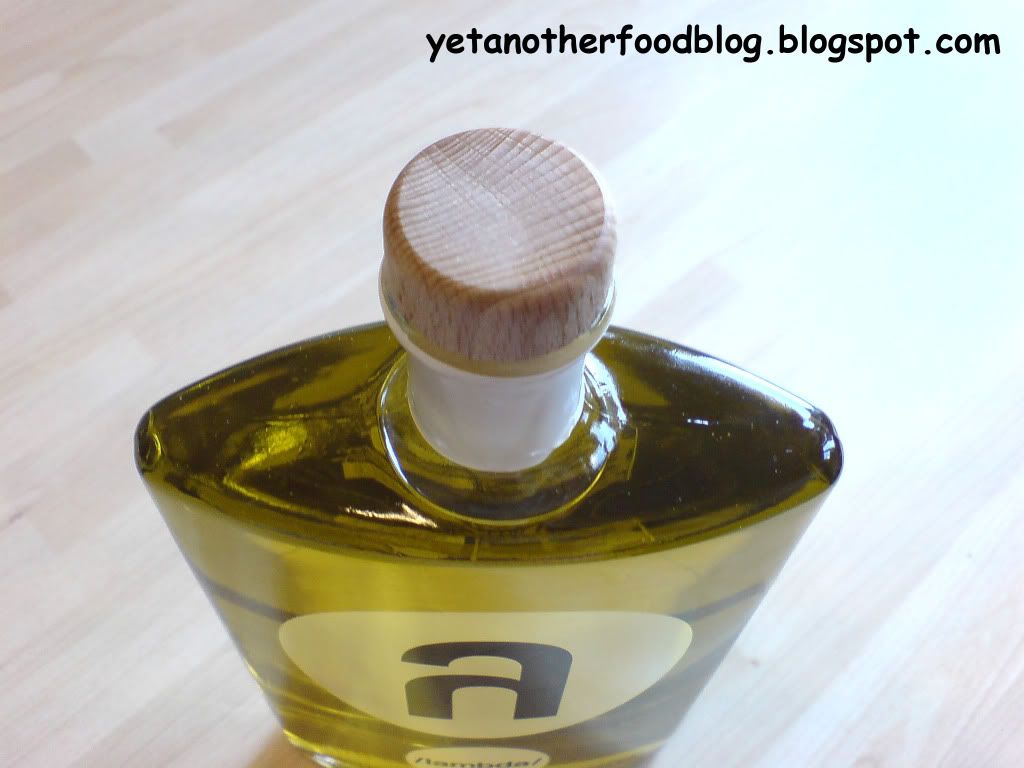 ...to it's wooden cork top.
Ok, maybe I'm just easily impressed.
But I WAS impressed.
At that point I hadn't even opened the bottle yet!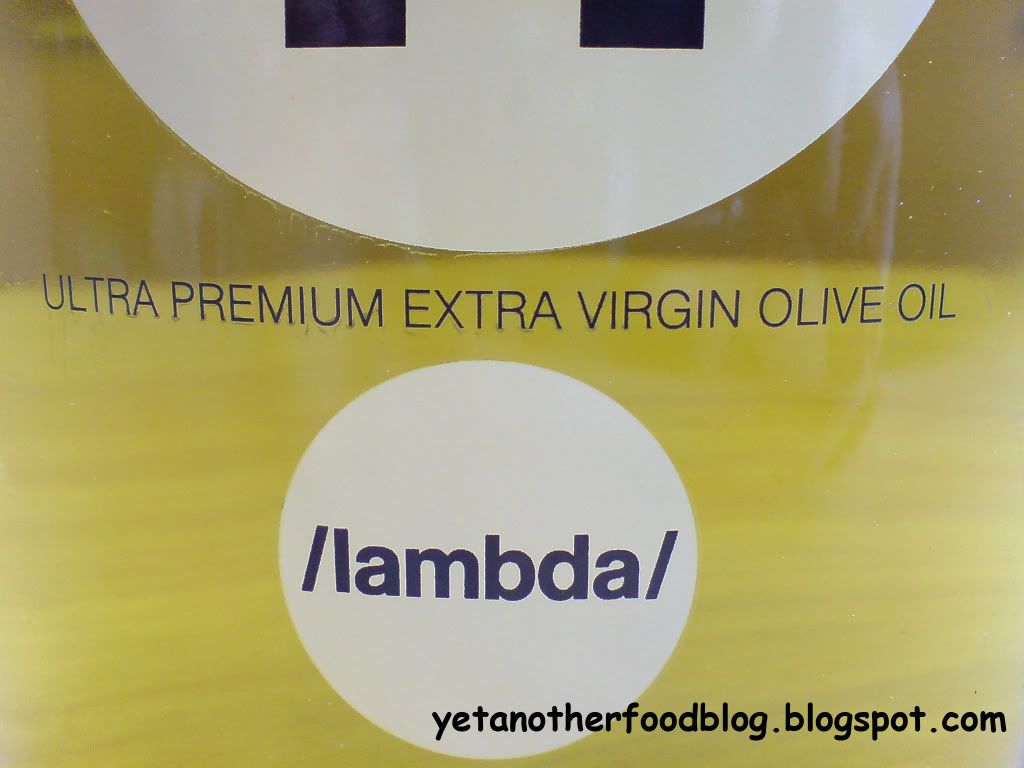 ULTRA PREMIUM.
Definitely not just olive oil.
Enough of admiring the bottle. On to the main attraction, the olive oil itself.
Do remember that I did say I know little of olive oil. But mind you, I feel that's a good thing, just relying on my tastes and my intuitions about good food.
Upon opening, the first thing I noticed that was different about /lambda/ was it's scent. It's diffrent from any other olive oil i've used before. It smells strong, pungent, and well.. green. It's a wholesome, down-to-earth sort of fragrance, kind of like freshly mown grass. I like it.
First taste. I poured a few drops into a spoon and tasted it. This is strong stuff, and it leaves a strong, peppery sort of aftertaste. Which I read somewhere is good. Oh, wait I'm not supposed to know much about olive oil. Heh. Anyway, I must say that the olive oil alone is a bit too strong for me, but I'm not about to go around drinking olive oil like wine.
So what have I been doing with my /lambda/ olive oil?
To be honest, I'm a baker. I'm not fond of cooking proper meals, but when I do I choose to go with quality, fresh ingredents (budget-allowing), and use simple recipes. Which is how I think good produce should be treated. Why contaminate your tastebuds with less than average stuff ?
So in a way my /lambda/ olive oil fits perfectly in my kitchen. It's unique flavour complements my simple recipes well, the strong, peppery taste stands out on its own among the basic herbs and spices that I use.
Simplicity at it's best.


Wild rocket salad.
Spaghetti Aglio Olio.
Fresh Focaccia Bread.

My verdict?
Yes, the oil is pricey, but it's truly a one of a kind experience. This olive oil has spoilt me, I'd probably never use any other if I could afford it. Maybe one day, when I'm rolling in dough.
Many, many thanks to Tory and Giorgos.
To read more rave reviews or to order your own bottle of /lambda/ ultra premium extra virgin olive oil, visit the Speiron website.